Factoid: The average American household spends $55 on toilet paper annually.
Factoid: According to various studies, the average person spends 3 years on the toilet over the course of a lifetime!
Factoid: According to Charmin customers, the number of days a standard roll of bath tissue usually lasts in the most-used bathrooms in the house is five.
Factoid: The pentagon uses, on average, about 666 rolls of toilet paper every day.
Here's the Poop: The Pros the cons from Good Housekeeping.
One-ply
Cottonelle Aloe & E
(56 cents per 260-sheet roll*)Designed to be gentle, this plush, strong one-ply tissue has a lotion-like coating, which some found soothing. We found it slower to dissolve than others. Not everyone likes a lotiony feel.
Scott 1000 (67 cents per 1,000-sheet roll*)Though one-ply, it delivers surprising strength when wet, yet dissolves quickly and easily. While it has thicker sheets than some two-plies, it's less absorbent.
Two-Ply Charmin Ultra Soft (63 cents per 176-sheet roll*)Our consumer testers agreed with its name, rating this absorbent, strong two-ply among the test's softest.It may not be your first choice if you have fussy plumbing: We found it didn't break down as quickly as others.
Target Up & Up (52 cents per 286-sheet roll*) Target's two-ply is super soft and very quick-dissolving, with good absorbency. If you prefer a plumper paper, look elsewhere; though two-ply, it's thinner than most.
Seventh Generation (67 cents per 300-sheet roll*)This 100-percent-recycled two-ply tissue impressed us with how speedily it dissolved. It scored low marks from testers for softness and wasn't the most absorbent.
Scott Naturals (70 cents per 440-sheet roll*)Made of 40 percent recycled fibers, this two-ply tissue dissolves well, and testers reported that it was soft. The sheets are on the thin side and aren't all that strong, particularly when wet.
Three-Ply WhiteCloud Ultra (47 cents per 200-sheet roll*)Absorbent, strong, and fast-dissolving, it's also a good value, costing 20 percent less than a comparable three-ply. It wasn't as strong as others when wet, and earned just average softness scores.
Which is your favorite brand? Do you find one to be more economical than the others?
One more question: Which are you, over or under?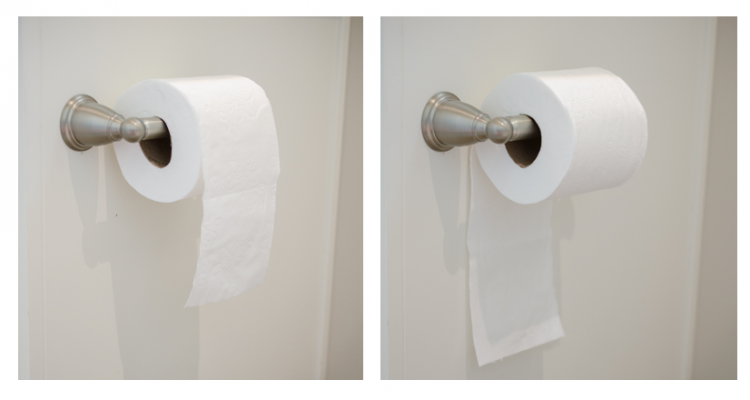 According to a Cottonelle Roll Poll:
72% hang toilet paper with the first sheet over the roll
28% prefer to hang the first sheet under the roll